WHAT IS DUAL TRAINING?
DUAL TRAINING is an active learning method based on the combination of academic teaching in ITCA-FEPADE and the practical application of knowledge as a trainee in a company.
At ITCA-FEPADE, young people receive the academic knowledge of trained instructors and instructors with extensive experience, as well as access to state-of-the-art laboratories.
The practical application of the technical notions learned is made within the sponsor company, complying with the rules and internal schedules of the same. Young people rotate through the different areas, and are supervised by a business tutor, who evaluates their practice.
To complete their training, they must develop an innovative project withinin the company prior to obtaining the title of senior technician and any pertinent certifications.
TECHNICAL CAREERS UNDER THE DUAL SYSTEM:


Mechatronics




Industrial Electronics Engineering




Mechanical Engineering,
Industrial Maintenance Option




Mechanical Engineering,
CNC Option




Industrial Chemistry Engineering




Logistics and Customs Engineering (Megatec La Unión)
ITCA-FEPADE IS A GREAT PARTNER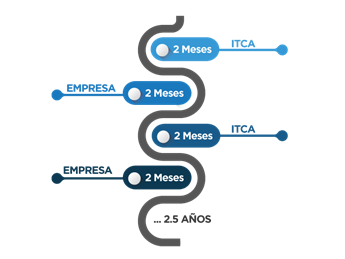 BENEFITS FOR THE COMPANY
• The training company is in continually trains new employees.
• Increased competitiveness in the industry through the training young professionals, according to the company's own need.
• Reduction of costs as far as training, induction, training and rotation.
• Easy access to the industrial training program for employees of member sponsoring companies of the Dual Program.
• Final project is focused on implementing improvements in the different áreas of the sponsoring company.
• Young, flexible and dynamic collaborators.
• Support staff to cover employee vacation periods.
TESTIMONIALS
"Since we learned about the Dual Education program developed by ITCA-FEPADE, we realized that this was the system par excellence to train our new technicians who, upon completing their apprenticeship, would have extensive theoretical and practical knowledge in the technical area they chose. This program enables them to face the demand where experience counts one more point in their favor.
Many of them are hired by the same companies that mentored and trained them during the time their dual education lasted. "
Delpin Group
(Dual company sponsor since 2008)
Ing. Leonardo del Cid
LEARN MORE ABOUT THE DUAL SYSTEM
Scanning the QR code below